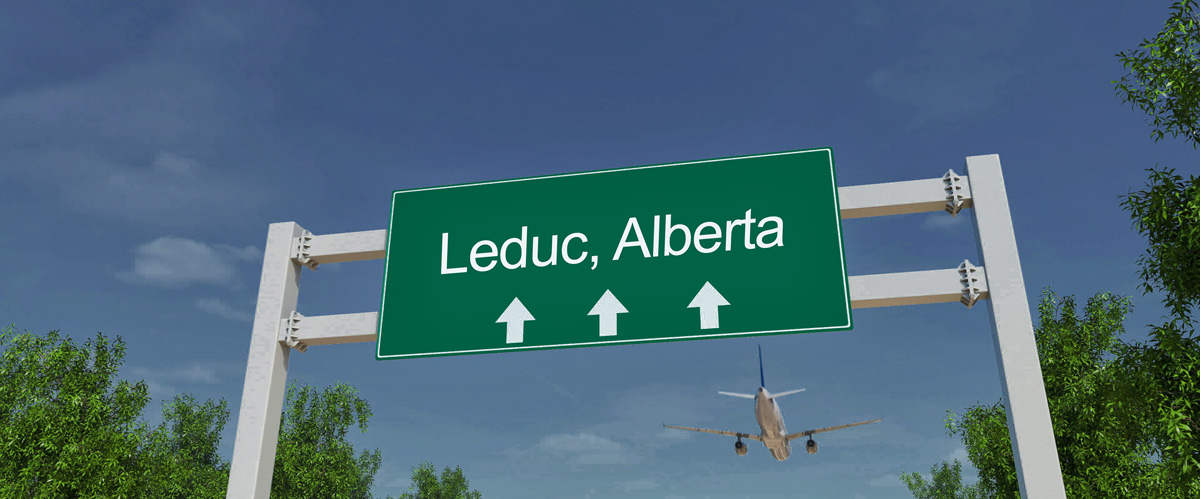 You might be wondering – why would I want to live in Leduc, Alberta?
A move to Leduc would involve a great deal of commitment, investment and dedication on your part. Naturally, you want to live in a positive, flourishing community with great people, businesses and facilities. You want a safe place for your family to grow and experience life in Alberta.
There are many compelling reasons to choose Leduc over other communities in Alberta. Discover all of the appealing amenities of this beautiful and growing city just minutes south of Edmonton – Alberta's Capital City.
Here are the top 10 reasons why you should call Leduc, Alberta your home.
Leduc is a thriving community
In 1899, Leduc history began when Robert Telford arrived. The town was named after the resident who had lived in the area the longest – Catholic priest, Hippolyte Leduc.
In 2017, the city's population was about 31,130 with a 2.1% increase from 2016. Leduc is near Edmonton, directly south – it is only 34 kilometres (22 miles) away. Leduc is at the intersection of two Canadian Pacific Railway lines and is adjacent to the Edmonton International Airport.
Like many Alberta towns, Leduc has always been heavily involved in the oil and gas industry.
In recent years, it is starting to diversify its economy. You can choose from the following communities in Leduc: Alexandra Park, Bridgeport, Caledonia Park, Central Business District, Corinthia Park, Deer Valley, Leduc Estates, Lakeside Estates, Linsford Park, Meadowview Park, North Telford, Robinson, South Park, South Telford, Southfork, Suntree, Tribute, West Haven Estates, Willow Park, Willow Park Estates and Windrose.
Leduc is a well-rounded, full-service community due to the following 10 characteristics.
1. Good Education
We all know a good education is important. You want a good school for your children, along with adult learning coursework. Leduc has both. Its public school district is the Black Gold Regional Division No. 18, which also provides adult learning courses.
2. Family Entertainment
There are plenty of things to do in Leduc. The 460-seat theatre of the Maclab Centre for the Performing Arts attracts local, regional and national shows.
Do you like movies? Check out the Leduc Cinemas for the most popular films. The Leduc Lanes Bowling Alleys are great for the entire family. And, if you just need to unwind, you could visit the Envision Medical Spa.
3. Beautiful Environment
Nature lovers can find plenty of biking, boating, fishing, golfing and hiking activities in and around Leduc. There are more than 35 kilometres of trails around Alexandra Park Ponds, Coady Lake, Leduc Reservoir, Telford Lake and West Point Lake for outdoor enthusiasts to explore.
If you like to explore and enjoy the outdoors, you're less than an hour's drive from some of Alberta's top lakes and campgrounds.
4. Hospitals
It's no secret that the Canadian healthcare system is one of the best in the world. There are 70 beds at the Leduc Community Hospital. Find caring doctors to keep your family members healthy.
5. Jobs aplenty
Whether you're looking to continue your career, or seeking new employment opportunities, you will find many job opportunities in Leduc. You can start with the 1,400 businesses located in the Leduc Business Park.
And, if that is not enough, there is a new Ford Parts Distribution Centre opening in Leduc; this 400,000-square-foot facility is expected to lead to the creation of hundreds of high-quality jobs in fall 2018.
The new centre will include a "state-of-the-art gym, open concept atmosphere and LED lighting." Leduc Mayor Greg Krischke hopes this will attract other world-class corporations.
With a good job, you can begin to set down roots in a beautiful home in Leduc. Contact us at Advantage Mortgage to help you secure a mortgage that fits your unique financial situation. We've helped many types of clients get approved using our "advantage" – access to multiple mortgage lenders, each with options and flexibility you won't likely find at your banking institution.
6. Quick Airport Access
One of the major perks to living in Leduc is the short drive to the Edmonton International Airport. Only 10 minutes and you're there. Whether you're leaving on a vacation or picking up friends or family visiting from out of town, you are not faced with a long, bumper to bumper drive through the busy streets. Just a short drive down the highway!
7. Rising Home Values
Leduc is becoming one of the fastest growing communities in Alberta due to its great location, people and amenities.
Zolo listed an average home sale price in Leduc at $306,296 for January 2018. This has increased to $364,764 for July 2018.
Leduc is the 4th fastest growing community in the Greater Edmonton Area.
There are a wide variety of homes to choose from – old world charm, modern and senior living. Rising home values show that Leduc has an inviting atmosphere. As a Leduc mortgage broker, we're always busy finding the best home financing loans for our clients looking for new homes in Leduc.
8. Recreation
Do you like to get outside and enjoy different types of recreation? You can invite your clients for 18 holes at the Leduc Golf Club, or Redtail Landing, one of Edmonton's finest golf courses located minutes away near the Edmonton International Airport.
During the winter you can hit the powder at the Rabbit Hill Snow Resort or Snow Valley, both conveniently located minutes away in the heart of Edmonton. Seniors might like to challenge the odds at the Leduc Rapid Bingo.
9. Sports
Due to the popularity of the town, there are numerous developments, including the Leduc Racetrack and Hotel. This development is expected to open in 2019.
The Leduc Racetrack and Hotel is likely to attract the "crème-de-la-crème" of the racing world. The hotel will offer modern accommodations for out-of-town visitors. Leduc is the place to be.
The one-mile racetrack will be located near the Edmonton International Airport. The plan is to offer 100 races a year. The multi-level building and entertainment centre can also be used for concerts, festivals and other types of events.
The Leduc Recreation Centre has three NHL sized arenas, a curling rink, and an aquatic centre.
10. Shopping
You can find the most popular global brands at Leduc's new shopping mall, conveniently located at the Edmonton International Airport.
The Leduc Premium Outlet Connection Shopping Mall, which opened in Spring 2018, has the following shops: Adidas, Aldo, American Eagle Outfitters, Arctic Spas, Banana Republic, Bentley, Calvin Klein, Cloud Nine, Columbia, DSW, Forever 21, Gap, Genesis, GNC, Guess, LaCoste, Levis, Lindt, Marshalls, Nike, Old Navy, Polo Ralph Lauren, Samsonite, Skechers, The Body Shop, Tommy Hilfiger and Under Armour. A few of the restaurants include A&W, Eat Clean, KFC, NewYorkFries, Starbucks and Wetzel's Pretzels.
If these stores are not enough, you can take a short trip to Edmonton, which happens to have the world's largest mall, West Edmonton Mall.
Leduc residents are thrilled to have one of the most popular shopping stores close to home. Costco's 100th Canadian store, conveniently located in Leduc County near the Edmonton International Airport, opened it's doors to the public on August 22, 2018.
Leduc: Plenty of Room to Grow
A move to a new city is a great commitment. A move to Leduc is a smart choice for many reasons.
You want to ensure that there are plenty of things to do and that your family is set up in a community that has access to the amenities you need to live a happy and content life.
Leduc is one of the fastest growing communities in Alberta – adding jobs regularly and recreational centres. It is close to Edmonton, so anything you can't find in Leduc, you can find in Edmonton.
Leduc is a prosperous City where you have room to grow. The community would love to welcome you so that you too could call Leduc – home sweet home.
For more information on moving to Leduc, contact Advantage Mortgage, a Leduc-area mortgage broker. We can provide you with essential information about the various neighbourhoods, schools, and almost anything you need to know about Leduc.