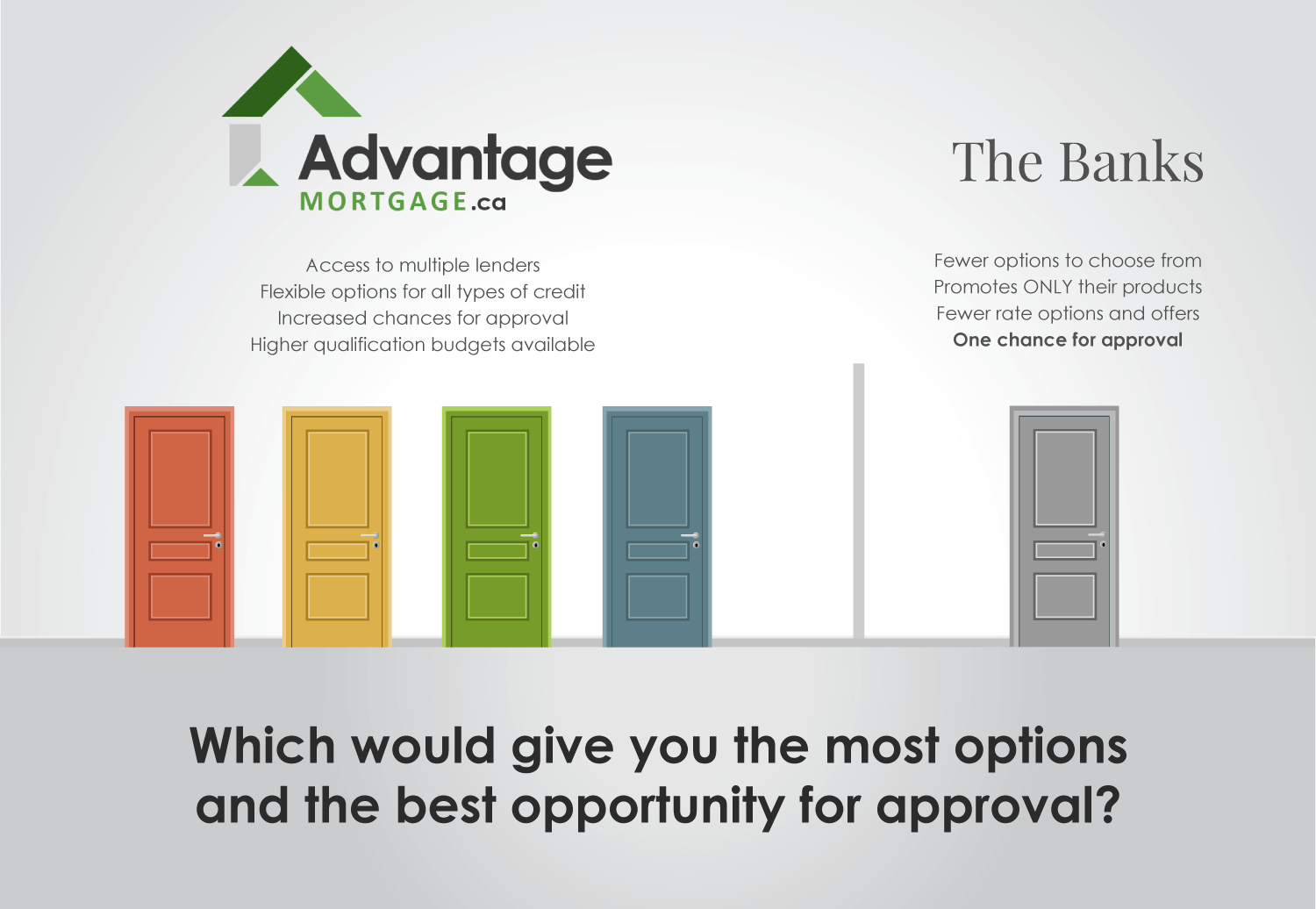 Seeking a mortgage to purchase a new or second home can be an exciting experience for most people. However, it doesn't take much time for this feeling to fade and to be replaced by an overwhelming amount of stress and frustration. Choosing to work with a mortgage broker in Alberta can make all the difference when it comes to approvals, rates and overall experience!
You will quickly find that when heading to a bank to find home financing opportunities that exist, you are hit with the more restrictive mortgage approval guidelines, increased down payment and employment verification, and property restrictions that you were simply not anticipating.
This is where the debate on mortgage brokers vs banks comes in to play. Working with a mortgage broker to secure your home financing presents you with many advantages and options you would otherwise not know existed.  These professionals give you more flexibility by locating a variety of financial resources including private mortgage lenders that are out there looking to help people just like you.  You can know you are working with a professional and gaining advice from an expert that understands this market inside and out.
Here are some of the opportunities and benefits you can expect to receive when working with a mortgage broker such as Advantage Mortgage.
Personal Representation
You don't have to go into seeking your mortgage funds blindly. Working with a broker offers you personal representation without the need to attend gruelling meetings and appointments yourself. Working on your behalf, these individuals will state your case and position to the lenders that they find for you to help you secure the home loan you need.
Saved Time Means Saved Money
By not being required to sit down with each lender out there yourself, you will find that you don't need to miss work or utilize those scarce vacation days for these meetings. Ultimately, this is one of those situations in which saving you time can mean saving you money. You can also avoid paying out one application fee after another that some lenders require to process your paperwork without a guarantee of the loan.
Expert Advice is Always on Hand
Your mortgage broker has firsthand knowledge of the laws and regulations that in place concerning your specific lending needs. Their skills and experience work for you by providing you with expert advice on how to proceed with your home financing process. These individuals understand the complicated new mortgage rules that were implemented in 2018 concerning Canadian lending practices.
No Additional or Unexpected Fees
This is not so when working with a broker. Most brokers, such as Advantage Mortgage, receive a fee from the lender when the final processing of your mortgage is completed. However, there are times when working with private mortgage lenders that this is not true. Although, you can trust that the broker you choose to work with will explain these situations to you upfront, giving you the option to proceed with the process or not before fees are accumulated.
We will also advise you up front of any possible extra expenses such as:
Appraisal costs
Market rent evaluations
Or, in some instances, property inspections
Higher Success Rate Even with Less Than Perfect Credit
Brokers work diligently to stay informed of the private lending sources out there for your mortgage needs. These lenders are often willing to work with individuals that have lower credit scores and bad credit history. Your broker can connect you with these sources to ensure that you have the success you need for buying or refinancing your home.
Access to Lower Interest Rates
Banks limit the amount of lending options that are offered to their clients. This limits the leniency that you have when negotiating the best interest rates that can be accessed for your mortgage loan. By lining up multiple lending sources for you, your broker can negotiate lower interest rates on your behalf.
This will mean paying out less money for interest and paying down the principal that much quicker. Having access to multiple mortgage lenders also gives you the freedom and flexibility to compare the lenders that will work with you to get the best results for your overall mortgage needs.
Quicker Approval Time
Most brokers throughout Canada have helped their clients secure mortgage funds in as little as 24 hours. This means less time stressing over the small details of your lending needs and more time planning on the facelift you will be giving your home to turn it into the house of your dreams.
More Options for Your Mortgage Needs
Too often people find themselves settling for the mortgage lending options that are presented to them by a bank. This is likely due to the bank's persuasion simply to get the case closed per se. Your broker understands that each client has specific and unique lending needs. Their goal is to present you with as many options out there as possible. Working with these experts, you can make a more informed decision as to the right path you should follow when selecting your mortgage lender. You will find that the freedoms you are given can make a world of difference even years down the line.
Minimal Stress
Knowing that you have expert representation, a full array of lending options, superior guidance for your specific lending needs, and a higher confidence level of success when it comes to securing your mortgage funds, you will find that the stress you face in this process is very minimal. This gives you the opportunity to feel more confident and comfortable making plans for your future knowing that you have someone providing the services that will get the funding you need.
When you are considering the option of mortgage brokers vs banks for your mortgage funding needs, the decision should be an easy one to make. Understanding these nine basic advantages of working with a broker clearly outlines more flexibility and confidence that you stand to benefit from.
Contact Advantage Mortgage today online or by phone at (780) 991-1600 and we'll help you on your way to gaining the lending needs you have.